Happy Sunny Thursday. It looks like it's going to be a beautiful day – sunny and warm! I'd been itching to sit outside and get a bit of vitamin D while on vacation and today looks like the day.
Yesterday I met up with my mom and a friend of hers and crashed their recurring Wednesday lunch date. They met at a cute little lunch place called The Elegant Moose. There was a large moose (fake, stuffed toy) in the front entry way.
The inside was really cute.
I grabbed some coffee as the ladies feasted on salmon salads
I am not a fish or seafood fan AT ALL so this was probably the best thing they could have ordered! 🙂 No worries about me sitting and longing for a delicious piece… except maybe for all that fruit!
Until Mom's cinnamon crepe came…
Oh boy – how many more months on this diet thing???!!! 🙂
We were trying to brainstorm wedding ideas and I think they realize they have their work cut out for them. I know plenty of things I don't like but am having trouble identifying what I do like. Plus, every time I think I have an idea and casually mention it to someone, they'll tell me why it's not that great – or suggest something "better" leaving me very doubtful about anything. Sigh
Oh – I did accomplish one tiny thing though – I sent away for samples of wedding invitations. Here are just a couple of the ones I sent away for: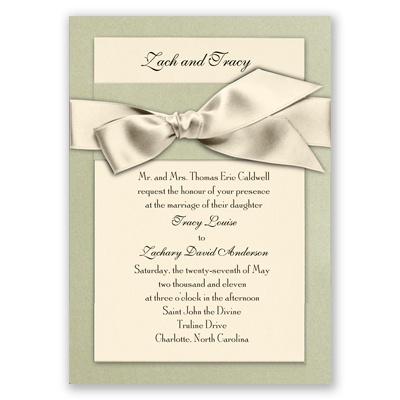 I am excited for them to arrive so I can see if any of them will work. I had been trying to find RSVP postcards to cut down on my postage costs but then I realized that, per 100 invites, the difference in cost would only be about $13. So might as well get the matching RSVP after all.
Last night before heading out for dinner, I got a fun photo from Ben at the Chicago Cubs / Milwaukee Brewers game in Chicago:
It's dark, but I can tell they are having a grand old time!
After that I scurried out to meet up with Renee for dinner. We haven't seen too much of each other since I'm not going to Saturday BodyPump while on this diet. I miss Pump and I miss being able to catch up on things before class starts.
I was starving for dinner and ordered a side salad – picking off the croutons and the sad and under-ripe looking tomatoes.
I ordered a burger without the bun and swapped the fries and pickle for broccoli. The last time I went here and did that, the waitress charged me $3 extra! This guy just made the swap. Guess who got the better tip? 🙂 I was so hungry to dig in I didn't even take a picture. Whoops! But you all know what a bunless burger and broccoli look like. I'm hoping. If not, go to the store NOW and get one. Ha Ha
Not much planned today – I am going to tackle some laundry and cleaning and then sit outside for that vitamin D. If the weather is nice tonight, I've been dying to get out for an evening walk. Maybe it will happen tonight. Have a wonderful day everyone!
Filed under: Dining Out, Wedding |